Supporting farmworker organizing campaigns
Our main focus is on supporting the Farm Labor Organizing Committee, AFL-CIO (FLOC)'s campaign to organize thousands of tobacco farmworkers throughout the South. CMWJ supports the campaign by educating and mobilizing community allies and fundraising for campaign organizing and actions. CMWJ staff also help with field outreach to educate farmworkers on their labor rights, the campaign to organize and expand those rights, and train farmworkers in organizing strategy.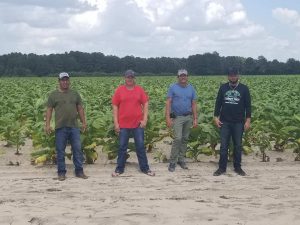 Addressing Workplace Problems
Farmworkers and the broader Latino community often face a variety of labor abuses in the workplace including wage theft, dangerous working conditions, harassment and discrimination. Labor abuses are even more common in low-wage jobs filled by mostly immigrant workers, such as field work and poultry plants. CMWJ works with our local communities to educate workers on their rights at work, assist workers in filing complaints when there are violations, and supporting campaigns where workers are organizing for safe, good paying jobs.
Fight Back Against Police discrimination
Since many undocumented people are unable to get a driver's license, they also experience increased scrutiny and harassment from law enforcement. We have seen a rise in roadside checkpoints specifically targeting Latino neighborhoods or workplaces, and more abusive and discriminatory treatment by police.
Stopping Immigration raids and deportation
We have witnessed increased immigration enforcement in both NC and OH, and increased and quicker deportations without due process. CMWJ is committed to working with partners on the ground to build a powerful community force to speak out against these inhumane practices, and fight for an end to family separation and deportations.
Training and Organizing with Youth
CMWJ supports and collaborates closely with two new youth organizing committees, the FLOC Homies in Ohio, and the FLOCMigos in North Carolina.
The FLOC Homies Union is a social movement that addresses the needs of the Latino community in Toledo through the creation of democratic institution and a unified, collective voice. Everyone between the ages of 14 and 24 is invited to join the Homies in identifying needs in the community, helping strategize solutions, and carrying out actions to address those needs.
Part of CMWJ's work with the Homies is through the Employment Readiness and Youth Empowerment Program. This program provides paid positions for participants to learn the basics of leadership and community organizing. Participants in this program are the youths that FLOC staff identify as being most motivated by the cause and most excited about seeing change in their lives. Over 16 weeks of training, these young leaders will be taught a number life skills including job seeking strategies, resume writing, understanding power structures, community organizing basics, building social capital, and promoting civic engagement.